All products are added to your cart.
Categories
OUR GUARENTEES
30 DAYS RETURN POLICY

POST NL PICKUP POINTS

QUICK DELIVERY

SHOWROOM IN AMSTERDAM
Zone3 Finger Paddles
Delivery time
Delivery within 1-2 working days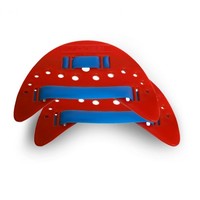 Related products
Sportful Hot Pack 5 W Jacket Ladies
Ladies' version, With a good mix between breathability, water-repellent character and good wind protection, the Hot Pack 5 has found the ideal mix and continues to set the standard for compact overall wind and rain protection.
Casco SpeedAiro Black
<p> The SpeedAiro is an aerodynamic and cool helmet. With its double layers the helmet provides aerodynamic benefits, the air is ideally drained backwards between both layers. This reduces the air resistance of the cyclist or skater and speed is gained. I
Others also bought
Castelli Scalda Glove Uni
This comfortable glove is suitable for use in different weather conditions. The fleece fabric is both wind and waterproof and the stretch provides the necessary comfort.
Sealskins Halo Runninggloves
The ideal running glove gives you complete lightweight protection with touchscreen technology. It also features the Sealskinz Halo LED giving you visibility up to 150 metres away for morning or late night rides.
Maxim Bottle (750ml) Blue
Bottle of 750ml of the brand Maxim. Suitable for tours and long training sessions. Is comfortable in the hand.
OTE Energy Drink Sachet (43gr) Sports drink
Delicious energy drink from OTE Sportvoeding. PH-neutral, supplying carbohydrate with a natural, mild taste and with added electrolytes. Provides enough energy for an effort of 45 to 60 minutes depending on the intensity of the workout.