All products are added to your cart.
Categories
OUR GUARENTEES
30 DAYS RETURN POLICY

POST NL PICKUP POINTS

QUICK DELIVERY

SHOWROOM IN AMSTERDAM
Zone3 Finger Paddles
Delivery time
Delivery within 1-2 working days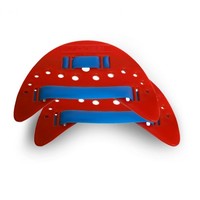 Related products
Dare2Tri to Swim Gentlemen
Dare2Tri is the only brand in the world that has a wetsuit in the range for swimmers who swim during a triathlon breast stroke or partial breaststroke.
QWIN 100% Whey Protein (700gr)
Whey Protein accelerates recovery after training and supports muscle building. QWIN 100% Whey Protein is suitable for team, strength and endurance athletes who want to develop more muscle strength and want to recover quickly after exercise and / or traini
Zone3 Vision sleeveless wetsuit (men)
The Zone3 Vision wetsuit men is equipped with Full Speed ​​Flo coating, this lowers resistance and increases speed. All panels of this suit have a high stretch capacity, making the Vision a very comfortable wetsuit.
Others also bought
Powerbar Hydro Energiegel
Powerbar Hydrogel is an easy to take isotonic gel without water. Contains 27 grams of carbohydrates. The cola flavor contains caffeine.
Born Protect Oil (150ml)
Born Protect Oil forms a water-repellent, protective film on your skin. The body heat is isolated so that you do not cool down. Rain and cold do not stand a chance.
Shimano Groepset Ultregra 6800 - 11 speed
Mooie Shimano Ultegra groepset model 2017 voor de 11 speed cassettes. Configurable in lengte crankarm, cassette opbouw en tandwielen voorbouw.
PRO Co2 Cartridges (2x25gr)
<p><span>CO2 patroon in 25-grams uitvoering, met schroefdraad. In een verpakking van 2 stuks</span></p>