All products are added to your cart.
Categories
OUR GUARENTEES
30 DAYS RETURN POLICY

POST NL PICKUP POINTS

QUICK DELIVERY

SHOWROOM IN AMSTERDAM
KMC Chain Checker
Delivery time
Delivery within 1-2 working days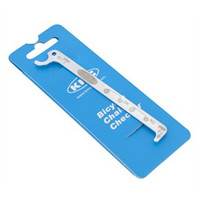 Related products
SIS Go Energy (1kg) Energy drink
SIS GO Energy is a hypotonic sports drink rich in carbohydrates. Ideal for long duration work, stacking carbohydrates or if you just need that extra bit of energy.
Loksak 8,89x16,5 Plastic beschermhoes
De Loksak beschermhoesjes zijn waterdicht tot 60 meter diep. Ideaal om je telefoon, credit cards, pinpassen mee te nemen voor op de fiets, boot of strand. Beschermt tegen water, stof, zand en stof.
Others also bought
PRO Co2 Cartridges (2x16gr)
<p><span>CO2 patroon in 16-grams uitvoering, met schroefdraad. In een verpakking van 2 stuks</span></p>
Bliz Tempo Matt Orange
Op zoek naar een lichtgewicht, high performance sportbril? En ook nog lichtgewicht? Dan is de Bliz Tempo met slechts 25gram, de juiste bril voor jou. De Bliz Tempo maakt het voor triathleten en wielrenners een ideale bril door zijn afneembare bovenkant. H
Tags