Train hard, run free
The Garmin running dynamics sensor can be easily attached to the strap of your pants. It measures whether you've improved your running dynamics from yesterday. This allows you to run without having to wear a chest strap. Once you've paired your compatible smartwatch1, you can attach the sensor to the back center of your pants band and start running.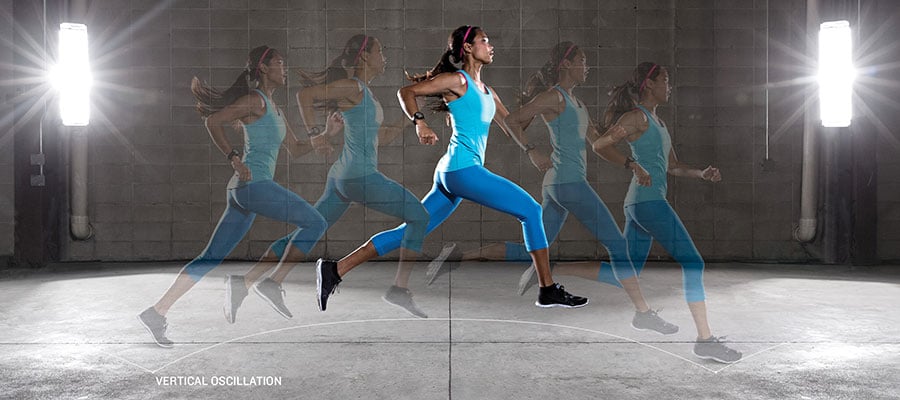 Rate your shape
View and analyze important running data, such as your cadence, stride length, ground contact time and balance, vertical oscillation and vertical ratio. These biomechanical measurements allow you to better understand your running shape, so you can perform better on a race day.
This is how it works
The running dynamics sensor contains an accelerometer, which measures movements of the upper body and calculates the following 6 running data:
Cadence is the number of steps per minute. The total number of steps is displayed (left and right together).
Ground contact time balance displays the left/right balance of your ground contact time while running. This balance is displayed as a percentage. For example 53.2% with a left or right arrow.
Step length is the distance between the places where you put your one foot and your other foot. This length is measured in meters.
Vertical oscillation is the up and down movement during running. It represents the vertical movement of your upper body, measured in centimeters for each step.
Vertical ratio is the ratio between vertical oscillation and stride length. This balance is displayed as a percentage. A lower ratio usually indicates a better running condition.
Ground contact time is the amount of time for each step during running where there is contact with the ground. This is measured in milliseconds.
Physical specifications
Dimensions (LxWxD), sensor in clip: 37.6 mm x 23.2 mm x 19.2 mm
Weight: 12.0 g
Battery life: 1 year (with daily use of 1 hour)
Battery type: CR1632 (replaceable)
Water resistance: 1 ATM
Extra
The different price ranges of Wetsuits
If you look at a new wetsuit, it is important to determine your budget. At ASW we sell wetsuits from € 180 to more than € 600. That is why we always have a suitable wetsuit within your budget. Are you going for a good performance in a triathlon? Then choose a wetsuit from the middle class. Do you swim in open water recreational? Then choose the entry class. And are you a top athlete? Then we have wetsuits from the top class in front of you. Ask the Staff of ASW for advice. We are happy to help you.
What do I need for my first triathlon?
Start je binnenkort je eerste triatlon? Dan lees je in deze blogpost wat je allemaal nodig hebt. Zo lees je over trisuits, wetsuits en sportvoeding. Toch nog vragen? Laat het ons weten.
The top five products for female athletes according to Lotte
Lotte is a very experienced athlete and one of the colleagues at ASW. She trains daily and takes part in races. In this blog she describes her top 5 products especially for women. In this blog, read her preference Powerbar Electrolytes, a Tacx indoor trainer, socks, protein shakes and a massage conjunction.