QUALITY BY DESIGN
The rugged yet sophisticated design features an always-on 1.3 display thats 18% larger than previous fenix models. It is tested to U.S. military standards for thermal, shock and water resistance.
PREMIUM MATERIALS
Fit the look to your lifestyle with your choice of stainless steel, titanium or DLC coated bezels. Each Sapphire edition adds a scratch-resistant sapphire lens and premium materials.
Push performance to a whole new level.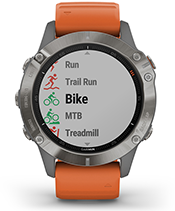 SPORTS APPS
Use preloaded activity profiles for trail running, swimming, running, biking, hiking, rowing, skiing, golfing and more.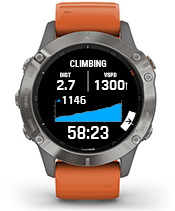 BACKCOUNTRY SKI INPUT
This profile can distinguish between skiing and climbing, then shows metrics specific to ascent or descent.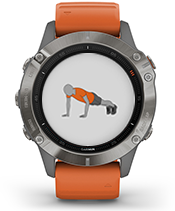 ANIMATED WORKOUTS
This watch features easy-to-follow, animated cardio, strength, yoga and Pilates workouts you can view on the watch screen. Choose from preloaded animated workouts, or download more fromGarmin Connectonline community.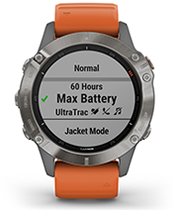 POWER MANAGER
View how various settings and sensors impact your watch's battery life, so you can make battery-extending changes on the fly.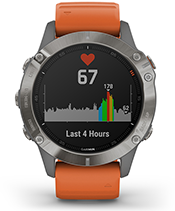 WRIST-BASED HEART RATE
The watch constantly samples your heart rate1and will alert you if it stays too high or too low while youre at rest. It also helps gauge how hard you work during activities. Even underwater.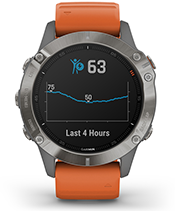 BODY BATTERYENERGY MONITOR
Optimise your body's energy reserves, using heart rate variability, stress, sleep and other data to gauge when you're ready to be active or when you may need to rest.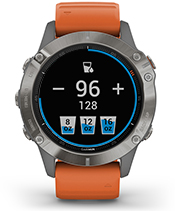 HYDRATION TRACKING
Staying hydrated is important for your well-being. Log your daily water intake to help you stay hydrated and see how consistent you are from day to day.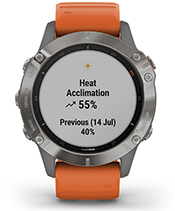 PERFORMANCE METRICS
Viewadvanced training metricsthat include running dynamics1, heat- and altitude-adjusted VO2 max, recovery advisor and more.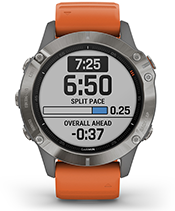 PACEPRO TECHNOLOGY
A first-of-its-kindPacePro featurehelps keep you on pace with grade-adjusted guidance as you run a course.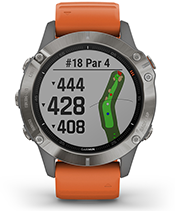 GOLF COURSES
Access full-colourCourseView mapsfor more than 41,000 golf courses around the world, and get button targeting and the PlaysLike Distance feature.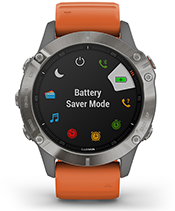 BATTERY LIFE
Internal, rechargeable lithium battery provides up to 14 days of battery life in smartwatch mode, 10 hours in GPS mode with music and up to 48 days in battery saver mode.
You reach new heights. Your watch goes with you.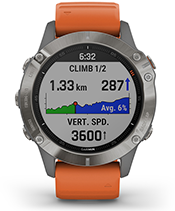 CLIMBPRO FEATURE
UseClimbPro ascent planneron downloaded courses to see real-time information on your current and upcoming climbs, including gradient, distance and elevation gain.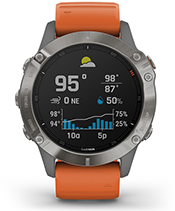 MULTI-GNSS SUPPORT
Access multiple global navigation satellite systems (GPS, GLONASS and Galileo) to track in more challenging environments than GPS alone.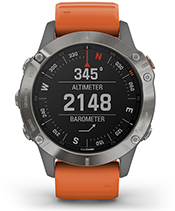 ABC SENSORS
Navigate your next trail with ABC sensors, including an altimeter for elevation data, barometer to monitor weather and three-axis electronic compass.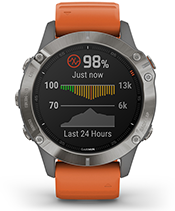 PULSE OX SENSOR
For altitude acclimation or sleep monitoring, a Pulse Ox2sensor uses light beams at your wrist to gauge how well your body is absorbing oxygen.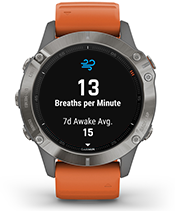 RESPIRATION TRACKING
See how youre breathing throughout the day, during sleep and during breathwork and yoga activities.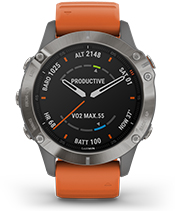 EXPEDITION MODE
Trek far and wide between recharges. Expedition mode, an ultralow-powered GPS reference, lasts for weeks.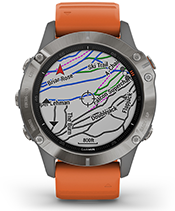 TOPOACTIVE EUROPE AND SKI MAPS
Use TopoActive Europe maps to navigate your adventures. View run names and difficulty ratings for 2,000 worldwideski resorts.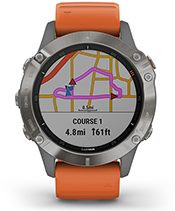 ROUND-TRIP ROUTING
Enter a distance you want to travel, and getsuggested routesthat will bring you back to your starting point.Trendline popularity routinghelps you find the best local paths.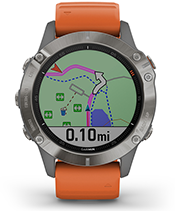 TURN-BY-TURN NAVIGATION
Follow a route or course with help fromturn-by-turn directions,which let you know ahead of time when the next turn is coming.
Youll feel a connection in more ways than one.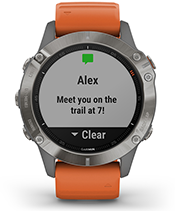 SMART NOTIFICATIONS
Receive emails, texts and alerts right on your watch when paired with acompatible device.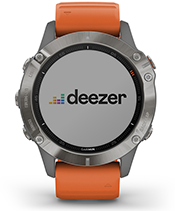 MUSIC APPS
Store up to 2,000 songs, or access preloaded streaming apps from yourcompatible services.including Spotify, Deezer and Amazon, and listen through headphones with Bluetoothtechnology.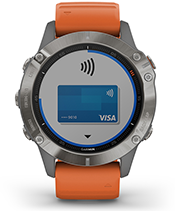 GARMIN PAY
Breeze through checkout lines with Garmin Pay contactless payment solution throughparticipating providers.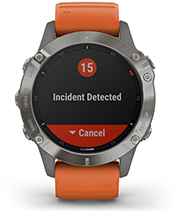 SAFETY AND TRACKING FEATURES
If you feel unsafe or if your watch senses that an incident has occurred, assistance and incident detection features3send your location to emergency contacts.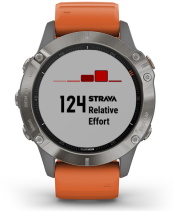 CONNECT IQ STORE
Download custom watch faces, add data fields, and get apps and widgets from theConnect IQ Store.
The different price ranges of Wetsuits
If you look at a new wetsuit, it is important to determine your budget. At ASW we sell wetsuits from € 180 to more than € 600. That is why we always have a suitable wetsuit within your budget. Are you going for a good performance in a triathlon? Then choose a wetsuit from the middle class. Do you swim in open water recreational? Then choose the entry class. And are you a top athlete? Then we have wetsuits from the top class in front of you. Ask the Staff of ASW for advice. We are happy to help you.
What do I need for my first triathlon?
Start je binnenkort je eerste triatlon? Dan lees je in deze blogpost wat je allemaal nodig hebt. Zo lees je over trisuits, wetsuits en sportvoeding. Toch nog vragen? Laat het ons weten.
The top five products for female athletes according to Lotte
Lotte is a very experienced athlete and one of the colleagues at ASW. She trains daily and takes part in races. In this blog she describes her top 5 products especially for women. In this blog, read her preference Powerbar Electrolytes, a Tacx indoor trainer, socks, protein shakes and a massage conjunction.